Word Template reports format messed up when rendered to PDF Dynamics GP 2015
Dynamics GP2015 Word PDF Alignment wrong
After upgrade to GP2015 it was found the modified reports using Word Templates screwed up when sent to email as PDF.
Email embedded PDF reports from Dynamics GP messes up the formatting, resulting junk formatting.
After a week of investigation and following false leads around the email interaction interfering with formatting, no solution was found.
Then after trying and failing to compensate for the column widths being upset and failing, the solution ended up to be an installation of the version 14.00.095, applying the GP January Hotfix.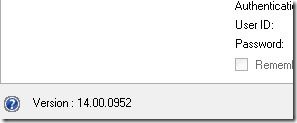 Information for the hotfix can be found under this post on the GP blogs… Microsoft Dynamics GP January Hotfix....RELEASED

There is an example included on this post in the community forums: Alignment issues in PDF version of Word Templates