UK visitor to USA for conference, GPUG summit
If you are visiting the USA for a conference there are a few things to remember:
Passport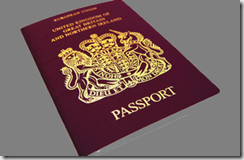 Obvious? – well amazing how many people realise at the last moment that the passport is expired. Check it early and get it renewed if its nearly at end of life.
Visa

Once you have a modern electronic passport with chip, to visit the USA as a UK citizen, you must apply for an "ESTA", to give you access to the USA. Go to the website fill in your details, it will cost you $14, at time of writing. This must be done at least 72 hours before you travel, but I would recommend doing so long before you need it, just in case there is a problem. If you are denied you will have to seek a full visa, a much more involved process. You can stay for ninety days under the ESTA and its valid for two years, handy for next year's conference too!
Money & Currency Cards

The US use different tokens to buy things with, called dollars, they are green and all look identical to each other, so when you get some beware handing over valued notes and getting incorrect change. It is essential to get some cash, preferably a good number of one dollar bills. The US service sector factors in tipping to the employee wages so tipping is an important part of the culture, people handling your bags, waiters, room service, cleaning maids, anyone who provides you a service should be offered a tip. You will find this eats up lots of one dollar bills over the duration of the trip. UK people tend to find this very difficult to get used to, don't resent it you are not at home, the economy works differently.
If you are not on company expenses for the trip, then get a US currency card. currency cards allow you to get and lock the exchange rate at which cash is placed on the card. Cards, such as the FairFx card can be loaded with cash, usually any amount and topped up via a phone app or website with more while you are out there. The cards are "normal" VISA or Mastercard cards and work in the same way at point of sale. The cash sits on the card as US dollars, conversion usually at time of putting the credit on the card, unlike credit cards that take the exchange rate at time of purchase (that is less unpredictable). These cards are US dollar cards so do not experience a fixed transaction fee each time that you use them, unlike most UK sterling debit or credit cards would. Do this with two weeks to spare as it can take time for the card to arrive through the post. Keep an eye on exchange rates and hedge when you see a good rate by putting some cash on the card. I find this useful for micro transactions, such as automated vending, such as hotel clothes washers, or vending machines or some parking that only can take card payment. For these small payments the flat transaction fee on your standard bank card would make its use unattractive.
Documents

It is wise to remember to bring your accommodation and other booking information to conference, what if there turns out to be two similar named hotels, paperwork helps when the taxi driver challenges you. Immigration officers can vary a lot in the scary factor. Like in most work places, some can be very officious and awkward, others can be lovely. I can not recommend highly enough that you have all your hotel booking information, conference booking information and especially hotel addresses and return travel documentation with you and easily at hand when entering the USA. Be very careful if you are being paid to present at the conference, this can lead you down a difficult path with immigration. It can be easier to ask for conference discounts or free accommodation in lieu of payment, to avoid this surfacing. Don't lie about anything, as in worst cases, if they inspect your laptop and find the power points and arrangements on emails, your are on a slippery slope if you were glossing over details.
When you land in the US you will have to go through immigration before connecting to internal flights. Airports like Miami and Orlando MCO have the electronic fingerprinting and face recognition systems, for entry to the USA you have to click on one of two buttons, business or pleasure, you can imagine for some conferences this can be a grey area, there are plenty of forums with people debating the correct response, go check them out. If your company are paying for the flight, then its business IMO. This can be one of the questions asked. Having the correct paper work backing up any answers will almost always allow you to be waved though, but you will be so glad you had it all at hand if you are being singled out for extra attention.
Remember don't bring any non-processed food into the US, like fruit or meats.
The above sounds worrying, but 99.9% of the time, getting in should not be a problem!
Power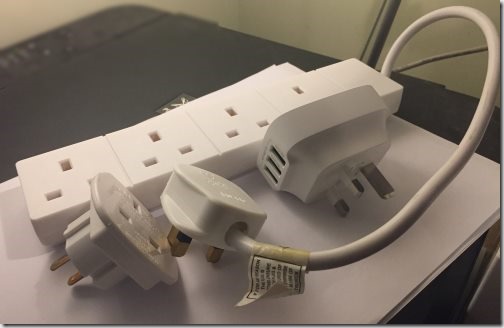 The USA have a different mains power system to the UK, you need an adapter to plug UK plugs into the mains and you MUST check on the label for the equipment you are plugging in, that it will work on 110VAC. Most plug top power supplies these days work on both European and US voltages and so laptop and phone chargers are usually fine. I always travel with a four way mains extension cable bought from a discount store, it is cheap so extremely light and has a foot of cable on it. For hotels I find this essential. Sometimes hotels have too few sockets, or mains sockets that are so loose that plugging an US-UK adapter then your plug top power supply in to the adapter is heavy enough to just fall out the socket, refusing to stay put. The four way extension instead allows a number of devices to be plugged in, placed on the table top thus taking the strain off the socket. Only the four way plug is in the wall.
Using a slim dedicated UK-USA adapter is much better than the bulky universal adapters for the same reason, the larger ones tend to just fall out the USA sockets. I would also recommend getting a multiple output USB power supply as shown in the photo, check it has high current output as cheap ones will not charge all the devices if plugged in at one. This allows for some chargers to be left at home and releases more mains sockets for laptop charging.
A portable lithium batter USB charger or two can also be helpful as if you are a twitter addict or just busy on the conference apps, the mobile phone can struggle to make it to the end of the after conference party, having a portable charger just gives that confidence that every last tweet can be read, or at least the number for a taxi home can be found after the party!
Mobile phone and data
Check your mobile phone or computer dongle contract for what charges you will incur in the USA, these are usually eye watering. I would recommend getting a Three Pay as you Go SIM, activate it and top it up the week before you go and get your phone unlocked so it can accept the SIM (if not already on the Three network). The data rates are cheap in the us and texts and calls are received at UK rates rather than at roaming rates. Free WIFI in the USA is easy to find, but where it matters in the conference, things can be different with many thousands of users trying to access one WIFI network. Mobile data gives another route to the internet, essential if twitter or checking facts during sessions is important to you.
Sun protection
We in the UK forget how strong the sun can be, Florida can be viscous and inflict real harm to the skins of UK visitors, bring sun protection, hats, sprays, cover ups. Check for the time of year what normal UV and heat is like. Florida can be very hot and humid, you were warned.
Accommodation
Booking as early as possible for your hotel, lets you get the fun of being closer to the action (after conference socials at hotel bars etc) and also keeps the taxi bills for transfer to the conference venue lower.
Eating
If you are not on company expenses then going to conference very expensive on the personal pocket, so look out for events that will give you a free feeding on evenings. No doubt this will be companies trying to court you, but will keep the family budget from being hit too hard.