Microsoft Connect–stop whinging and contribute
"The software should just do that, or I wish it could do this..?"
The site https://connect.microsoft.com is a feedback tool that can be used to submit feedback on Microsoft products. I know after chatting with some of the developers from the MS Dynamics products, that they look at it regularly and take the content seriously.
Join
Go visit the site, login with the login you use to access Microsoft sites normally. Before you can interact with a product's suggestions (or even visit a link to a suggestion from a social media post), you must link to that product. Connect covers many products so to keep the noise down it works on this subscribe kind of model. The home page lets you search and then click "join" to join that product.

Search
You can search for existing suggestions and also vote for them, items getting more votes get more attention from Microsoft, so the community influences the priority. Thus it can be good to whip up interest on Twitter or other social media for a particular feature, to get votes.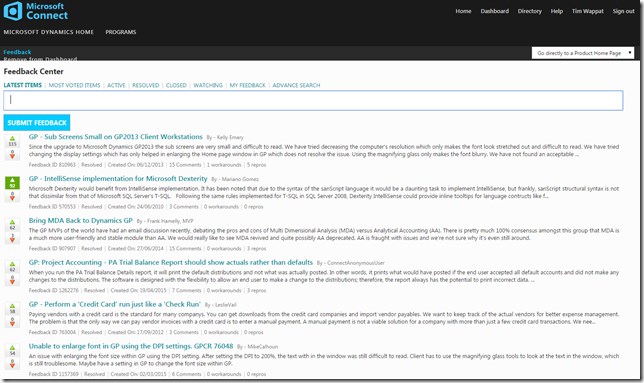 Contribute
It is also possible to create a new suggestion or comment against, or offer alternative solutions to existing suggestions. Connect indeed connects users and partners to Microsoft and others in the community, so get contributing!