How to bring seasonal joy to your GP users
Seasonal Splash Screen
The network team since I can remember have introduced seasonal splash screens to our Dynamics GP screen through the month of December. Usually with a warm message from the IT team. There are 24 different splash screens, each one switched via the login script, one for each day… count down to Christmas!
Below is what you could do, I threw it together as an example, although the ones the team do are far more fun, but it would be unfair to post the images here without permission!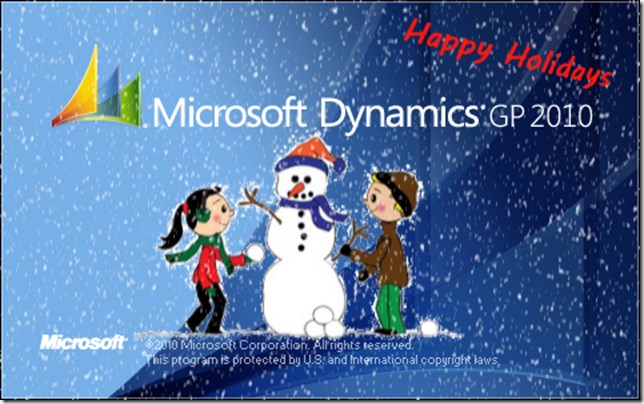 How is it done?
Essentially if you drop a splash.bmp into the GP application directory, it will be displayed on startup. If no file is present, then an embedded splash screen is shown by default.
You can use a powershell script or batch file at login to switch the bitmaps intelligently as desired, number the files 1.jpg 2.jpg etc..
David Musgrave covers the detail of how to do this in his post Customise the Microsoft Dynamics GP Splash Screen where he also points to GP splash images over the years which is also worth a look.
So give it a go, you can grab the starting bitmap from one of those posts and embellish it as you see fit. Obviously you could be boring and add your support details on there or promote helpdesk open times or whatever!
Happy holidays!