GPUG Summit 2018 Phoenix Arizona–October 15-18th
If you are into Dynamics GP, Power BI, then head over to GPUG Summit summit this October in Arizona – even better, bring your "IT crowd" too!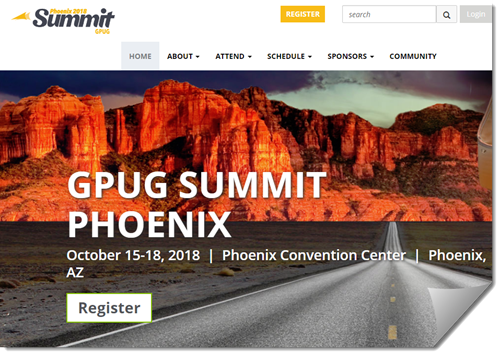 This event has over 215 GP –specific sessions and a separate parallel conferences going on "under the same roof" for business central and Power BI. There will be lots of ISVs and networking opportunities in the expo hall and corridors.
Session listing can be found here for the four conferences:
It is difficult to emphasise enough the value that can be found in attending this nature of event, with a world class concentration of expertise in the Microsoft Dynamics products housed in the same place for a week. There is a strong sense of community and endless opportunities to get the answers to long held questions, or discover new products and features that you never realised existed. This knowledge could be priceless when brought back to the workplace after the event.
Lots of practical sessions are available on how to better utilise the investment you have in your company systems. This includes discovering the tools you didn't even realise you already had at your fingertips. Notably, this year there is a real growth in the developer and IT pro tracks – so not only will the accounting, purchasing, warehousing, sales, admin employees find value in attending, now the IT crowd can come along and there will be lots for them to get their teeth into too.
Have you ever considered how much more could be achieved in your company by growing a better understanding of the financial systems that drive the business, by getting buy in and understanding from your IT support staff and developers? Trust me, once they see the kind of things that are possible from the exhibiting companies and from the technical sessions, they will return enthused and ready to help facilitate change, perhaps brining in improvements (great and small) for everyone! –my message is simple, BRING YOUR IT CROWD TO SUMMIT 2018!
Newly released Microsoft Dynamics G 2018 R2 (October 1st) will be in action on stage and within sessions
Meet new peers, reunite with existing friends and mentors within the GPUG community
GPUG Medics will be onsite and available all week to talk you through your unique GP challenges
BI track for Power BI you can attend Power Summit sessions at NO additional cost
See my write up of the 2016 Summit in Tampa for an example of what to expect.
As a bonus I will be presenting two sessions, so see you there!