GPUG Summit 2016 Tampa USA - Part 3
The Microsoft show at the arena on the previous day (day zero), was a controversial late add-on to Summit. It was now day one of "proper" summit, after intros from Bob, Errol Shoenfish took to the stage and showed us power apps and talked Dynamics GP road maps and more.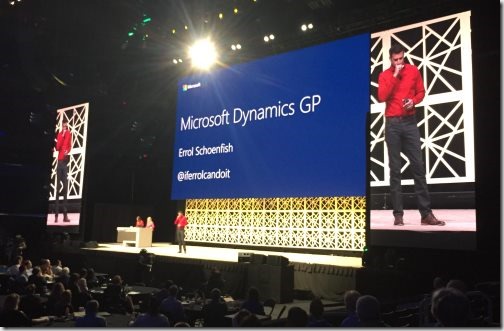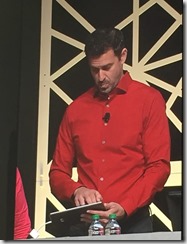 Obviously we all wanted to see the road map for GP. For the duration of summit they emphasised that development and investment in GP continues on, as it does with the rest of the Dynamics family.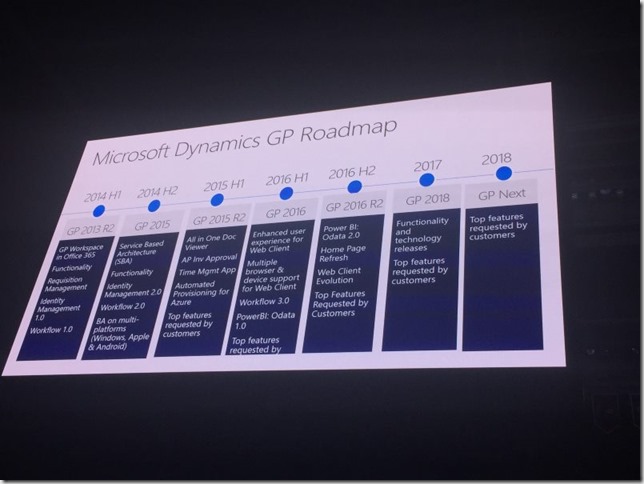 This was illustrated by this slide.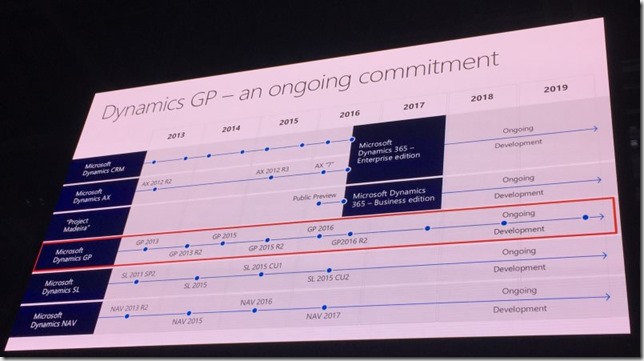 Amber caught me and handed me something later in the day. This was awesome, Amber remembered, from earlier in the year, to bring the magazine with her that had my article in it! Thanks Amber you are an *all* star!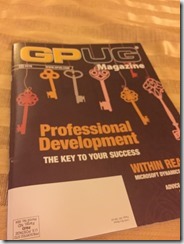 I also met and had a very long chat to Todd exchanging war stories and talking about the market for ISVs in this new, uncertain world we are entering. Turns out Todd was at some of the m-hance events in the UK, like the infamous Nottingham customer day, but I never met him at that time.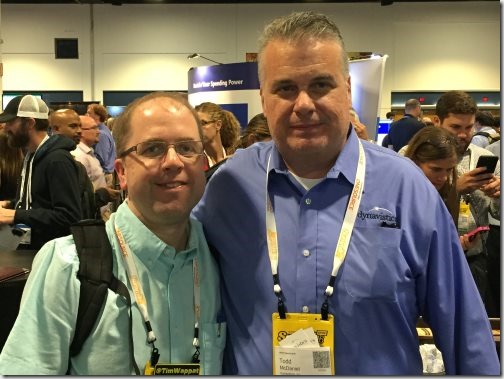 I really didn't anticipate being stopped a few times during the day and being thanked by people for my blog or help i had offered on the GP forums. This was a new experience, this kind of acknowledgement was a real boost to my mood and will keep my making the effort in the future.
I do work with hardware devices and IoT too in my spare time. I got talking to Adam Juechter from Microsoft Azure IoT hub about IoT. I guess he was happy to find someone that actually knew what MQTT and CAN, service bus and other terms meant at an enterprise software show. I discovered a lot talking to him, more information to take home and play with. I didn't realise how enterprise ready and robust the Azure IoT infrastructure has become, since last time I looked at it, admittedly some time ago now. I think it says something that Microsoft were pushing IoT at an enterprise software show too, it is a growth area for the future.
I enjoyed presenting with Steve Endow, a session on high volume integrations. It was a tool agnostic, non-developer session that I thought worked well. Between us we have completed a LOT of complicated GP integrations, so there was some real experience between us to field the questions at the end of the session.
I also spent time going to some other sessions and had lots of chats by the water coolers with other delegates.
Night time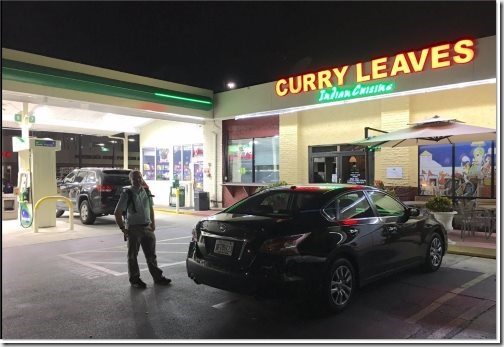 In the evening Steve Endow took me out on an adventure, away from the safety of the conference part of town and on my first Uber taxi ride experience. Everyone knows that Steve takes his friends to be best places in town. He found an "unusual" restaurant, perfect for two vegetarians like us to eat, a pretty swish place it was that he found!
The Uber drivers picking us up and dropping us off both said we were lucky to get in this establishment, they would know, it being based at a gas station! Honestly you had to go through the gas station mini-mart to go to the washrooms, that were actually located on the outside wall of the gas station – Steve the experience was priceless!
It has to be said, the food was really good and I enjoyed some down time away from the noise and bustle of the summit, getting to know a bit more about Steve in the process.
… and finished the day with a walk back to the hotel, admiring the fountains by the STRAZ performing arts building... and the atmosphere on a warm evening.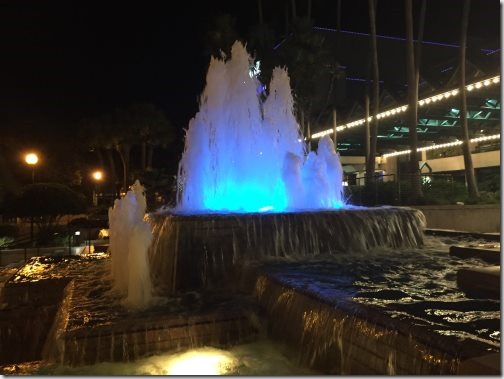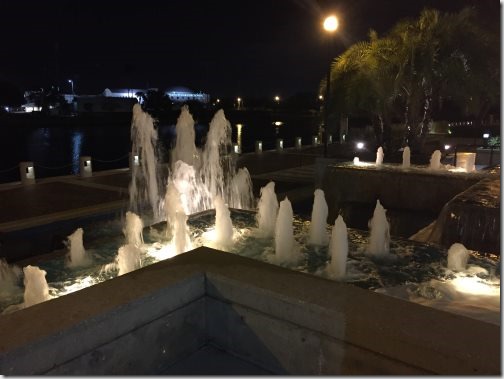 GPUG Summit 2016 Tampa USA - Part 1
GPUG Summit 2016 Tampa USA - Part 2
GPUG Summit 2016 Tampa USA - Part 4
GPUG Summit 2016 Tampa USA - Part 5