GPUG Summit 2016 Tampa USA - Part 2
Microsoft had booked the Ice Hockey Arena booked for 2pm to give a keynote and launch Dynamics 365. That meant I had the morning to myself. I headed out of the hotel first thing (well perhaps 2nd thing haha), to discover the the hotel provides a efficient fleet of free shuttle busses, to anywhere within 2 miles of the hotel. This provided me with some easy mobility. I took the shuttle to the Publix supermarket that I'd seen the night before and picked up snacks and water for the week. I also bought some more to bring back home to the UK with me. Annoyingly I had not brought out my USA enabled phone SIM, so couldn't call the shuttle to pick me up again. Knowing the location, I decided to walk over to the convention centre where the kind people at reception called the shuttle for me.
Waiting at the curb side for the shuttle I spotted a familiar face, walking with purpose my way, wearing in-ear headphones. It was Jen Kuntz – Canadian GP MVP! I called out and luckily was correct it was her. This was the first of many meet experiences over the week. Living in the UK it feels very detached from, what is at heart, a US/Canadian product community. Although the internet and social media helps bridge the ocean a little, it is still rare that you get the opportunity to meet people from the community. On this trip I got to meet people that I have known for many years, through different routes, phone calls, reading their blogs, by email enquiries over products or problems, or interacting on social media.
Being a person that loves hugs it was great to be met by a big hug from Jen, as she said, it felt appropriate! My shuttle arrived and Jen was off to what was to turn out to be a emotional, fire filled partner meeting with Microsoft. I was jealous to hear the MVPs had got an audience with Scott Guthrie the previous day too! I'd only been out for just over half an hour and I was meeting people already, this was a good feeling.
After clearing some emails for work at the hotel, sorting myself out with American money, American SIM in phone and some other bits and pieces I walked back into the convention centre, where I bumped into Jen again after registering, we went off to get some Mexican food from a nearby restaurant before the "big event" in the arena.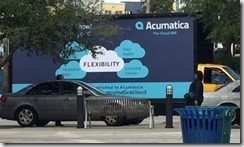 It was interesting, if a little amusing, that among the promo "boys" and "girls" was Acumatica, bill board bombing the Microsoft event.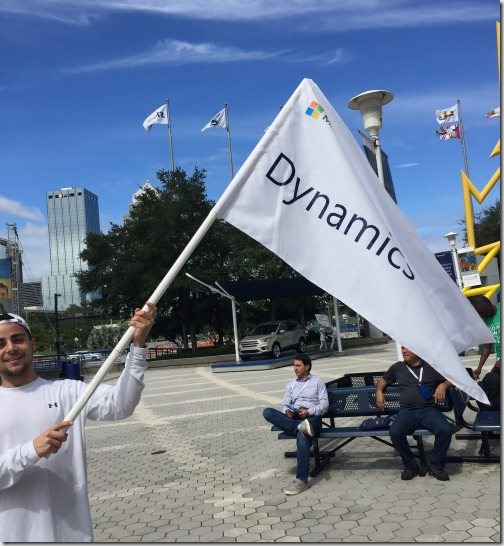 At the arena I met up with Steve Endow (GP MVP), Andrew Dean (Envisage Software) and Habib Salim. I have known Andrew for many years, and have collaborated with Steve and Andrew on meetings before but never got to meet them in the flesh. It was great to get the opportunity like this and felt like meeting old friends. Three Dynamics GP developers from United Kingdom, USA and Australia converged on the Arena right there and then!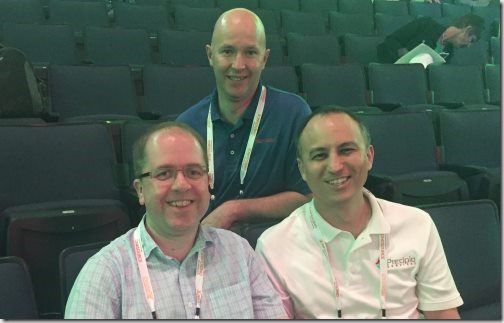 @Scottgu then did the keynote introducing the CRM aspects of Dynamics 365. –really there was some finance type content in there somewhere, I think...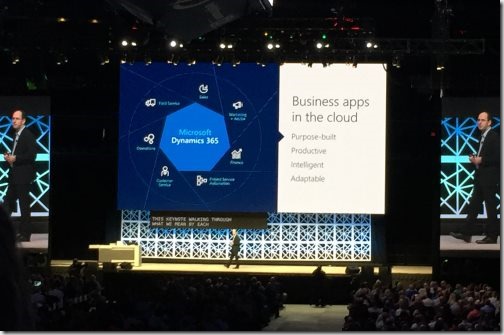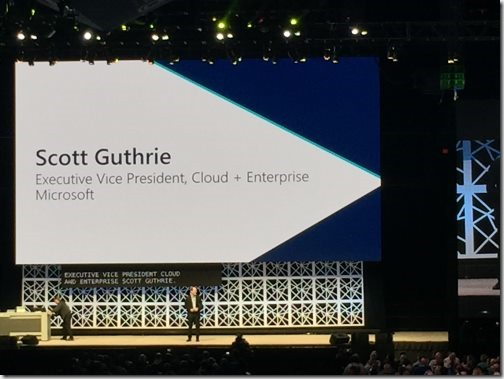 Around the audience, there were mutterings about real world, when all the examples of the seamless smooth operations of D365 were shown in the slick videos and demos.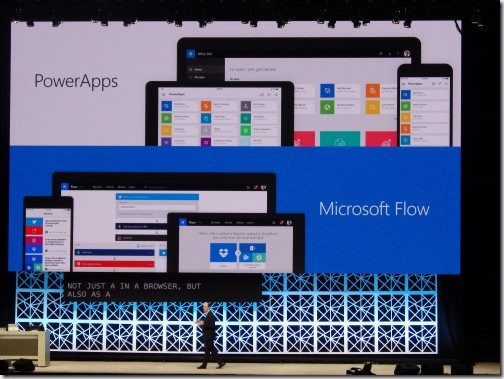 Credit to them, Microsoft were showing an integrated experience that I don't think is found elsewhere, just I struggled to see the ERP between the CRM –I guess financials is not as exciting to show?!
We did get shown power apps, something together with flow look interesting to look into at some point. There was also a very strange section with a UK brewing company, they broke the slick presentation a bit! WithoutWires got one of their outlook integrations shown, very nice.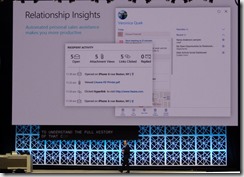 The session closed with a Q&A that got a little more interesting as it was not as rehearsed.
"Q&A with @scottgu - if you choose to adopt (dyn365) it is easy, NAV & GP, migration tools available, but existing systems continue"
"Dynamics 365 first of many releases with significant advances, looked at integrating Dynamics across Microsoft #scottGu"
"Dynamics CRM or AX online then it's a seamless move - AX on prem will continue #scottGu"
"Hybrid solutions with on prem for your core and bridge out for optional cloud service extensions #gameChanger #ScottGU"
It was obvious the on prem vs cloud issue was more important to the ERP people than MS had anticipated.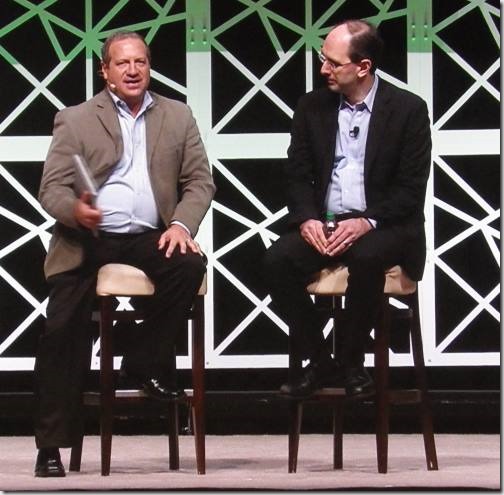 This zero day Microsoft day was added onto the Summit, so it was lucky that I had added a day on to my schedule when I originally booked my flights. I had done so in case there was any pre-conference training I wanted to attend. You can see the introduction of D365 is causing disruption in the partner channel, there was lots of tight rope walking going on, trying to keep everyone happy during Summit this year. I think there is some adjusting to the new world for everyone to get their heads around and deal with. This means quite a lot of change for the partners and ISVs. I was involved in many discussions over the new products being introduced to the channel and the way they are marketed, what they are, how they are going to be sold, who is going to use them, where the sales are coming from, how ambitious the adoption targets are etc. Also ISVs are wondering where they fit in, partners wondering what their role is now in this software as service type delivery model. Thus with everyone wondering what the pie tastes like and how big a slice they can cut, it is all very unsettling. Oh and shhh don't even talk about the GP migration tool...
EXPO with David Musgrave...
We moved on from the arena walking over the road to the conference centre for Expo time. This is where I bumped into the GP legend David Musgrave MVP. David is a fixture when it comes to GP and a font of technical knowledge. He gave me the honour of letting me tour the expo hall with him, where he introduced me to so many people, most of whom I already knew from the GP community -but had not met in person. As we walked the expo hall, it actually amazed me just how many people that I knew. Meeting people in person means you learn new things about them, for example #Fact, David travels with a lubricated Rubix cube, indeed he has a collection back at home and can solve them in a reasonable time!
It was so special to get to spend some time with the MVPs in the evening too. Here is a gallery of the photos.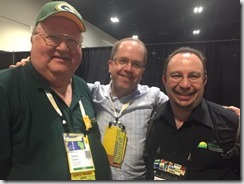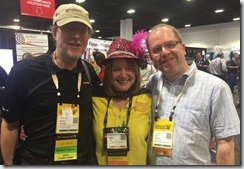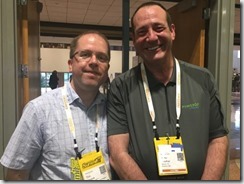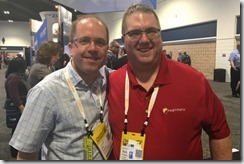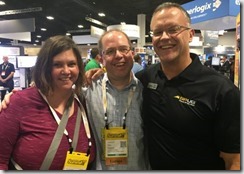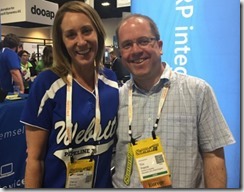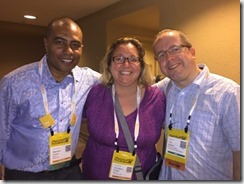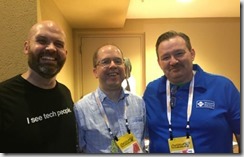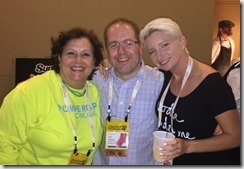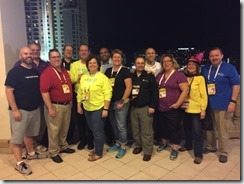 This alone was enough to come all this distance for, to experience all this in one day! Thank you all for being so welcoming and overwhelmingly friendly and being such pleasant people. I love this community!
GPUG Summit 2016 Tampa USA - Part 1
GPUG Summit 2016 Tampa USA - Part 3
GPUG Summit 2016 Tampa USA - Part 4
GPUG Summit 2016 Tampa USA - Part 5