GPUG Magazine Q2–2016 is available!
If you didn't already know, there is a professional magazine for Dynamics GP. Published by the Dynamics GP User Group (GPUG). The magazine has hints & tips, conference and events listings, product and services advertisements that are relevant to the GP market. Also showcased are some of the benefits of joining GPUG. Go have a read!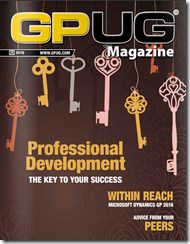 Q2 magazine has an especially interesting article about the release of GP2016 on page 24 by an author who's name you may well be already familiar with! It is an article commissioned and written before we started getting details of the release but also provides the links to the Microsoft team blog where up to date information is now available for GP2016.
This magazine there is an interesting article from Chad Sogge – group program manager at Microsoft. Should the opportunity arise, Chad is one of the most interesting people you can catch for a chat on developer topics, it is great that he spared some time to talk to the user group magazine!