Enterprise Software Podcast
If you are involved in ERP software, no matter what vendor, then the Enterprise Software Podcast is a good aggregator of news and views on the ERP software market. Informative and usually quite light-hearted.The content is product agnostic and is provides an easy way to keep in touch with the gossip, including who is moving to what company.
Go check out the old episodes and subscribe to the new ones here: Enterprise Software Podcast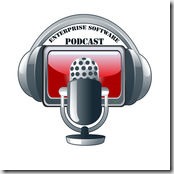 Little did I expect when I started listening, what was some time ago now, that one day I would get to talk on the podcast. While at GPUG Summit I was given the opportunity when I was asked for an interview. Luckily it stayed  very shallow and so I didn't get to rant on any contumacious issues like Dynamics 365 or other subjects, in our market space, keeps me safe from putting my foot in it!
If you are interested it is going to be episode fifty two. I've listened to the rushes already, I understand that expected publication is 19th Oct 2016.