Dynamics GP 2015 email–"Word experienced an error trying to open the file error sending email" when using Word Templates
When attempting to send a document that utilises word templates, even using PDF format, the following error may occur, due to a tightening in security with in the Microsoft Office product, "Word experienced an error trying to open the file".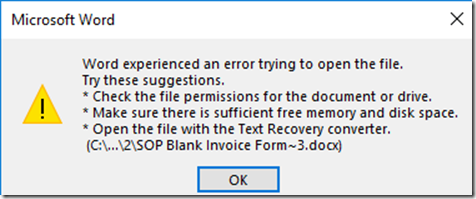 Information about this issue can be found here: Word Templates will not Email/Print after Office Update
As I understand it the XML generated by Dynamics GP is not compliant and causes office versions with the patch to fail to load it. This is true also if you send the word document as a word document to someone, that was generated in Dynamics GP. If they have patched office, the document will not open.  When Dynamics GP sends a PDF/Word email it saves the document into a temp directory first then sends it, turning it into a PDF as required. This is why even PDF documents are affected too.
Solution for GP versions after 2016
The solution is to update with the latest GP patches if you are on supported version of GP 2016 and above (at time of writing).
Those updates found here:
Microsoft Dynamics GP U.S. Year-End Update 2020 RELEASED!!
Bodge solution for GP version 2015 – maybe previous version too, I've not tested
If you are running unsupported GP2015, then you are stuck without a solution, other than the correct one, that you really should be upgrading to a supported version of GP f9or these exact kind of reasons). In the real world there are many reasons why this may not be possible quite yet and you don't want to postpone rolling out office updates, as for security reasons, you really shouldn't hold back on updates.
There is a totally unsupported bodge you can use that may give you some time to upgrade whilst still benefiting from the latest office updates.  Please note this action should be considered carefully as it has not been talked about by Microsoft as an option.
Fix Dynamics GP 2015 Word experienced an error issue
To fix this issue for Dynamics 2015, in a totally unsupported way – this is at your own risk!
Download GP2016, more importantly, Download the latest GP 2016 cumulative update and install the client only, obviously you don't want to upgrade your GP install yet, and have no need for the database components, perhaps do this on another machine for peace of mind. You must have the release that contains the bug fix, follow the link above. It must be the 2016 version of GP, this will not work if you do this with the 2018 version!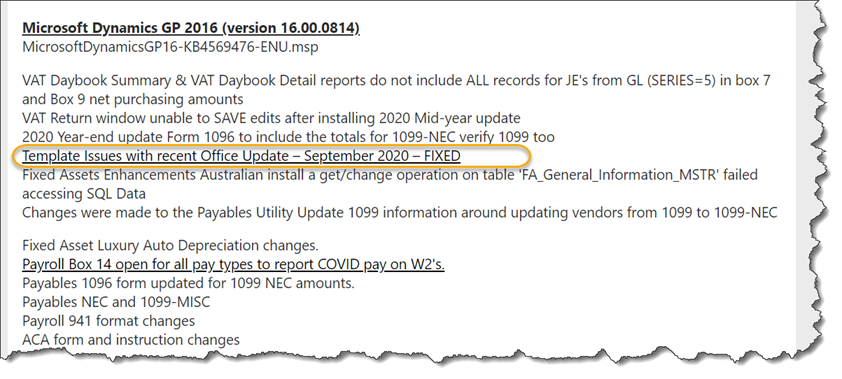 In the Dynamics GP Program files folder of the 2016 install locate the following two files :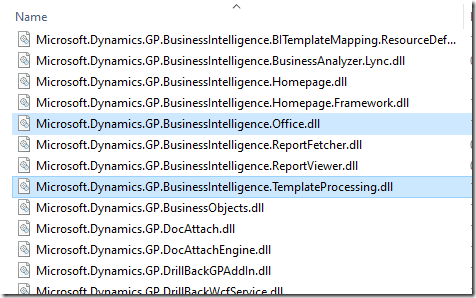 Microsoft.Dynamics.GP.BusinessIntelligence.Office.dll 
Microsoft.Dynamics.GP.BusinessIntelligence.TemplateProcessing.dll
Ensure Dynamics GP is closed on the machine that you are working on
Also find the same files in the GP2015 install folder, take a copy of them onto your desktop or somewhere safe, so you have a way to go back if you need to
Now replace only these two files in the Dynamics GP2015 folder with those from the GP2016 folder.
You may now launch GP2015. You should find that the ability to send emails of Word Template based reports has now been restored. Roll these two files out to your other workstations that use word template reports.
These were the version numbers on those files from the attempt I made: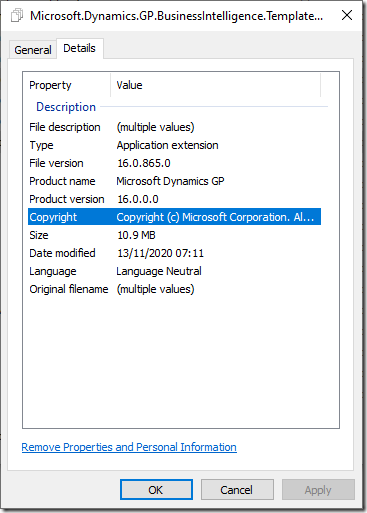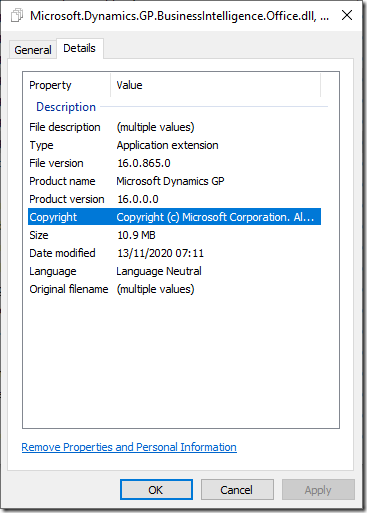 Note: This is totally unsupported method and use it at your own risk. However with this just been a reporting and office library dlls, the risk to GP should be low in my opinion. Although this is an unsupported change, if you are such an old version of GP you are running unsupported already to some extent anyway! Also note that this will only work with version 2016->2015. When I tried it with a more modern version of the dll, GP failed to open.