Dynamics GP UK Support companies, Partner List 2018
UK, Microsoft Dynamic GP Partners
A Microsoft Dynamics partner is a IT specialist company who pay a "membership fee" to Microsoft, that also meet certain competences criteria and are therefore are permitted to sell and support products in the Dynamics range. The Dynamics partner takes a small percentage of from the Microsoft software licence revenue they generate. Access to the licences are restricted to partners, through Voice, so you won't find them on standard MS licencing company price lists. Microsoft will feed sales prospects as leads to the partner network to fulfil, so the Dynamics partner companies are expected to be competent in the products they resell. Recently and contentiously Microsoft dropped the exams that used to be a mandatory requirement to become a partner, arguably making it easier to achieve partner status in more more Dynamics products than those the company actually has skills to support.
Selecting a partner
This can be difficult task, with often many partners to choose from, other times it can be difficult to know the companies available to choose from. There are many factors that can go into choosing a Dynamics Partner. Each of the factors vary in importance/relevance depending on the nature and sector of your business. Cost is rarely a significant factor, keep in mind that money from the support contract licensing mostly goes to straight to Microsoft leaving little for the partners to work with. Look out for companies that may be trying to upsell the number of licences or attempting to sell you extra software or services that you don't really need in order to boost the sale. However also please don't confuse this mis-selling with the practices of a good partner. In my opinion they should work with you to get the best value out of your software investments and a software system that most times drives your business and provides a window on its health. Partners can deliver value by, for example, delivering user training, providing consultancy to changes processes, or selling helper bolt on software modules to make your organisation more efficient. I believe Dynamics GP should be able to provide a competitive advantage and not burden the organisation.
It may be difficult for new customers to know what to ask and how to compare different partners. I have views on what I would look for that I will share here:
A partner's role should me much more than the support desk that is called in when something breaks. The partner should be visiting/calling regularly, keeping you informed of new features or products relevant to your business and suggesting ways that you can improve or change the way you use the products. They should be ensuring your IT department know how to maintain and backup GP correctly and efficiently (this is in everyone's interests). This can only be done by the partner investing time getting to know your organisation. They then need to keep close and stay informed of your business processes and plans. In return they will get revenue from consultancy, implementation fees, or more software revenue, whilst delivering you with a good return on your investment.
References, I beg you to ALWAYS take up references from a potential partner. Take the time to telephone those references, get chatting find out the truth. Sometimes the truth can be found in a reference conversation whereas it would never be recorded in a written form. Sometimes in bigger or perhaps more complex situations for example, manufacturing it is good practice to make a site visit to a reference to a similar company, see how that company use the product.
Customer Days, ask if you can attend a customer day, indeed check the company hosts them, do other companies exhibit at the customer days, offering 3rd party products, do Microsoft make any key note addresses at the company day?  Customer days are a great chance to get talking to staff from the partner and other customers using that partner– a good partner should not feel threatened by you doing this. Customer days are useful to catch up on your product too to learn about features you may never have realised were there. They also are where you get advanced warning of new functionality being developed for the product.
How many consultants dedicated to GP? How many help desk people that are skilled in GP? How many developers do they have? Remember that partners will often sell other products than GP, you might find 30 consultants but only 2 know GP, ask what skill level everyone is at, what certifications do the individuals have or experience?
Business Intelligence – BI is so important in any business, can the partner help you develop BI solutions to give you big grip handles on your organisation? Good partners will have a favourite BI toolset and be able to demo it to you.
Help Desk - What are the hours and service levels of the helpdesk service? If you are a large company, does the partner have the resources to fully service you? Can you "pay as you go" or "bank hours" to draw against? Are the help desk used to supporting all the GP modules that you are going to use, i.e. do they already work with similar organisations to yours?
Specialisms – Some partners have expertise in Not for Profit or Distribution or Food Services or Manufacturing – find out what the prospective partner is good at – align that to your needs. For example, it is no good asking a partner that has no other users with a warehouse what barcode solution to use. Whereas one that does have customers already using barcode solutions can give real world advice.
Cloud experience – A partner that is working with projects in the cloud has now become one of the essential key competences, in my view. Going forward, cloud is going to be creeping into your Dynamics GP, like it or not, be it private, public cloud, partial use of cloud services, for example in backups or invoice approval optical recognition or simply Business Intelligence with Office 365. To get good value from GP and have a mentor to help your business move into the new era of IT and to embrace new ways of doing things, you need a partner with experience and insight in these areas.
Geographic Location – note that in this modern age, apart from being in the similar time zone, location is not key. Most of the companies listed below, have staff based all over the UK country, mostly working from home, or small regional offices, that combined with remote control login software means physical location of the head office is less relevant than ever.
Upgrades and training – can the potential partner provide you with resources to keep your systems up to date and provide any required training? The partners listed vary enormously in scale and competence. Some are very large partners that can draw on dozens of consultants so solve a problem, other only have a handful of very versatile consultants. I believe both can work, but generally it is good to match your organisation size to the relative scale of the partner to adequately support it.
**
Special Partner Status** – is the partner a member of the highest echelon, "Microsoft Inner Circle" or "Presidents Club", members are an elite group of the most strategic Microsoft Dynamics partners from across the globe. These are statuses awarded to partners for outstanding achievements in sales and service excellence. It is difficult to find out more, I suspect it is a secret society with strange rituals! There are also "Gold" and "Silver" statuses too.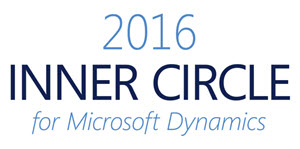 Do you understand? – can you communicate with the partner well – a good working relationship is perhaps the most important part of a partnership. Ensure that you can work with them and that the partner is able to communicate with you in a manner you understand. This is key to build a strong relationship that can deliver more value from your Dynamics GP investment.
So… Invite all the prospective partners in, don't be afraid to ask the above and more. Then at the end compare each partner with the others and see what works best overall.
Locating a partner
Microsoft provide a listing of partners in the Dynamics space via the search found here: Partner search tool. This search covers all Dynamics products. This means many partners listed in the results don't have expertise in Dynamics GP. If you drill into each partner the detail page should list their strengths. I have made it easier by listing the UK based Dynamics partners that I am personally aware of working with GP. They are listed in random order. The following list is only a guide and is not a definitive list, nor does the inclusion of companies in this list indicate an endorsement from me, the author. Use Google or Bing for the companies of interest. All have comprehensive websites, check the information I collated is current by comparing to the various partner websites.
_**Last updated Jan 07, 2018
**_Partners, if I missed you out, then to be added to this list, please use the contact me section of this site.
Customers, please if you have any further questions about selecting partners, use the contact me through the contact me on this site and I will add the answer to this page.
Website Link
Syscom PLC
Hampshire House
Kingswinford
DY6 8AW
+44 (0) 1384 344244
Website Link
itlab (prior JMC IT) Big Studios
1 East Poultry Avenue
London
EC1A 9PT
+44 (0) 207 030 3333
Website Link
City Dynamics
30 City Road
Moorgate 
London
EC1Y 2AY
+44 (0)20 7065 6868
**Advantage Business Systems Limited
**Providian House
68 Lombard Street
London
EC3V 9LJ
+44 (0)20 3740 5852
Website Link
ISC Software Solutions Ltd
St Ives Business Park
Suite 3, Clare Hall
Parsons Green
St. Ives
Cambridgeshire
PE27 4WY
+44 (0)1480 802280
Website Link
Perfect Image
Equinox House
3.2 Silver Fox Way
Cobalt Business Park
North Tyneside
NE27 0QJ
+44 (0)191 238 0111
Website Link
M4 System Ltd
The Innovation & Technology Centre
Tredomen Business Park
Hengoed
CF82 7FQ
+44 (0)1443 863910
Website Link
Corefocus Consultancy Limited
Anley House
Anley Street
St Helier
Jersey JE2 3QE
+44 (0)1534 780183
Website Link
Quantiq
18 King William Street
London
EC4N 7BP
+44 (0)20 7451 1200
Website Link
m-hance
Derbyshire House
St Chad's Street
London
WC1H 8AG
Tel: +44 (0) 203 368 6801
m-hance
Trinity House
Bredbury Park Way
Stockport
SK6 2SN
Tel: +44 (0)161 406 2300
Website Link
**Nolan Business Solutions Plc
**Cedar House
Ancells Road Fleet
Hampshire
GU51 2UN
Tel: +44 (0) 1252 811 663
**Nolan Business Solutions Plc
**Office 5
5 Mason Road
Kidderminster
Worcestershire
DY11 6AF 
Tel: +44 (0) 121 767 1862
**Nolan Business Solutions Plc
**Abbey House
83 Princes Street
Edinburgh
Mid Lothian
EH2 2ER
+44 (0) 1315 102 015