Dynamics GP Focus trigger registration failed: taUpdateCosts after installing Shipping Notification Tool 2013 on GP18.4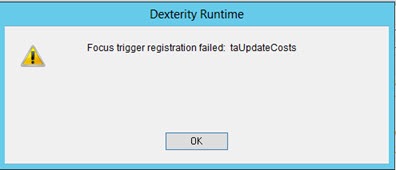 After installing the Shipping Notification Tool on Dynamics GP 18.4 the error "Focus trigger registration failed: taUpdateCosts" is shown after launching Dynamics GP.
I guess some Dexterity changes were made to the forms that the tool is plugging into, causing the Dex trigger to fail like this.
Luckily Harry Lee has already investigated this issue on the community forum post Focus trigger registration failed: taUpdateCosts after Shipment Notification Installed and Configured.
There is a another build of the tool "Shipment Notification Tool version 2018" that fixes the issue available from Microsoft Support, under a free support ticket.
After dropping the new .cnk file into the GP application, this new build fixes the issue.
If you already have the product installed as this is an upgrade, do not run the taShipmentnotification_Create.sql script, as it drops your table,. I did a file comparison on the previous version and this version and they are identical, so no schema changes in the tool has were made.
Note:
There is a lack of information in the partner channel about the Shipping Notification Tool, it will often be thought to be part of the Professional Services Tool Kit (PSTL). This is not the case, the PSTL is now part of main media installer for GP and the shipping notification tool is separate cnk available only from MS support via a support case.