Dynamics 365 Financials - Dynamics GP Migration Extension
Had a quick play with the migration tooling for Dynamics GP to Dynamics 365 Financials today, but failed pretty quickly with the lack of a data export option in GP. Here is where I got to:
In Dynamics 365 Financials go to: Services & Extensions –> Extensions –> Extension Marketplace, download "Dynamics GP Data Migration"
From the home screen go to Assisted Setup & Tasks –> Migrate business data
Use the … button to select Import from Dynamics GP rather than Excel.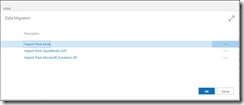 The next step will ask for the file exported from Dynamics GP. I was puzzled as to how to generate this. To my knowledge is no "Export Data" in GP, I looked and nope none there. The instruction is to:
Open Export Data (File->Maintenance->Export Data)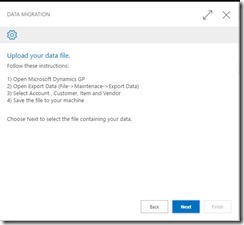 from this reference, Migration options for Dynamics 365 for Financials , it turns out that this is a new GP option in "GP 2016 June Hotfix, or GP 2013/2015 Nov 2016 Tax release" onward. There is some more information on the above linked post regarding how the GP data will be imported too, go read.
So time to install and launch a newer version of GP before continuing….